What is piada?

Print this page
Did You Know?
Emilia-Romagna is the home region of world famous Italian director Federico Fellini - a true Piada lover - whose movies inspired the names of our Piadas.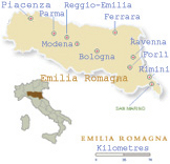 Piada (also known as Piadina) is a very popular Italian flat bread sandwich that is a specialty of the Emilia-Romagna region.
Ogni donna fa la Piada a modo suo (Every woman makes piada in her own special way)
With these words, mocking an old Italian saying, Maddalena Fellini (sister of Federico) perfectly describes the variety of ways in which a piada can be made.
There is a virtually infinite variety of recipes, either passed down from generation to generation or perhaps reinterpreted following the more modern techniques of international cuisine. The thin round flat bread made with white flour and extra virgin olive oil has become a sort of symbol of this area located between the Apennines and the Adriatic sea.
In Emilia-Romagna, as soon as it is removed from the flame, the Piada is stuffed with cold cuts, cheeses and vegetables. It is served while it is still hot, to fully appreciate its aroma of freshly baked bread.